In most cases, the nature of the work covered by the SCHADS Industry Award requires the majority of the industry support workers to work at different locations (in other words, client sites) during the day.
For example, the scope of a home care employee's work is to provide in-home support to clients, including the elderly and those with disabilities or special needs. And to fulfil their primary role in assisting homeless people, employees in crisis accommodation positions are often required to support at different caretaking facilities.
So, how can you accurately track each employee's workday while they are at these sites to ensure that you meet all your SCHADS compliance regulations?
The SCHADS Industry Award is a complex and highly specific Modern Award that requires a lot of attention to detail regarding paying your employees overtime, penalty rates and specific allowances.
Unfortunately, there's not much guidance from the Fair Work Commission regarding staying compliant with all its regulations.
And using manual processes to job track your support workers at client sites can be time-consuming and inaccurate. Instead, putting the process on autopilot using automated time and attendance software in conjunction with a cloud payroll system can deliver this in a cost-effective and even profitable manner.
So, in this article, we'll explore how NoahFace time and attendance software, coupled with cloud payroll, can help you stay on top of your job tracking and payment obligations.
What Is NoahFace Automated Time and Attendance Software?
NoahFace
is a facial recognition time and attendance software solution that's deployed on an iPad mounted in your workplace entry points, where it continuously monitors for people approaching.
When it sees a face, it compares it with known faces within its facial database. If there's a match, it will acknowledge and register attendance onto NoahFace's server.
So, whenever your employees start or complete their work, they simply present themselves to NoahFace, which will automatically recognise them through its facial recognition technology. A photo record is always taken with each access attempt for you to review later if you need.
The records can also flow directly into your payroll system, ensuring staff get paid accurately and efficiently.
Alternatively, NoahFace can be run on each employee's iPhone or Android phone. So, if they're completing a job off-site, they simply open the NoahFace Go App, enter their job number (or scan a barcode) to record their activities. This feature is super handy for tracking SCHADS support workers while they're at client sites.
How NoahFace Helps Track SCHADS Support Workers at Client Sites
One of the biggest struggles we've seen from our SCHADS clients has been tracking workdays for support staff who work at client sites - especially home care workers.
More often than not, they end up relying on manual timesheets captured by employees while at their client sites. But, unfortunately, there's no way of monitoring that the manual timesheets accurately reflect their staff's work.
What's more, the handover process is often a headache for employers because they have to ensure that all the timesheets have been presented to them, and they have to file each employee's timesheet manually.
And then, when it comes time to pay your staff, employer's have to revisit these files and make sure that they're accurately paying their staff according to the SCHADS wages, penalty rates, overtime rates and industry-specific allowances.
So, the following case study will show you how NoahFace Go can help you effectively track your staff's workdays while they're at client sites.
Her role requires her to provide home care support at a client's home by:
preparing meals,
accompanying the client to doctor's appointments, running errands and social outings,
administering medication, and
assisting with mobility in and around the home.
Amelia is a day worker, but on occasion, she's required to sleep over. Because Amelia's primary role requires her to be at her client's home, she rarely visits the ABC Home Care offices.
Before ABC Home Care Providers introduced NoahFace time and attendance software, Amelia kept a manual timesheet which she used to:
track when she got to work,
when she left with her client to run errands,
what activities she did when, and
when she clocked off.
Once every fortnightly, she would pop to the ABC Home Care offices to drop off her manual timesheets.
These time and attendance records would then require clerical entry into payroll software. Unfortunately, ABC Home Care Providers were experiencing a high level of data entry errors when it came to the clerical entries. So, to try to mitigate these challenges, they had multiple personnel check the entries.
Unfortunately, this meant that ABC was spending additional time and resources to mitigate payroll compliance risks.
Amelia was among 80 different support workers, and the manual processes were just not working anymore. So ABC Home Care Providers approached Pay Cat to help them automate their time and attendance and payroll processes.
Pay Cat introduced an app-based time and attendance solution called NoahFace Go that could automate Amelia's scheduling, time tracking and attendance records. In addition, the timekeeping records were integrated with their new cloud payroll software, KeyPay.
Amelia logs and tracks her shifts on the NoahFace Go app, which monitored her location (at the client premises and out on errands), specific tasks, and completed jobs. And if she had to work her occasional sleepover shift, she would sign out of her "normal shift" and select the "sleepover shift."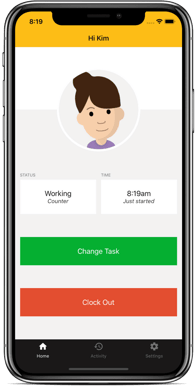 The records would then automatically transfer (without any manual intervention) onto ABC's cloud payroll platform.
Implementing NoahFace not only made a significant difference in ABC's ability to reduce payroll processing resources, but it also made it so much easier for Amelia to accurately track her tasks and workdays at a click of a button. She also saved a lot of time not having to drive into the office each fortnight to drop off her timesheets.
Key Takeaways
When it comes to the SCHADS industry, support workers are generally working at the home or property of their clients - especially in the home care sector. This often presents many challenges around tracking time and attendance.
And because of the nature of work performed under the SCHADS Industry Award, support workers often have to work broken shifts, sleepovers, excursions and 24-hour care. All these roles have unique needs and conditions that must be monitored - bringing their own set of unique challenges to job tracking.
In our experience, we often encounter businesses navigating these complex conditions using manual payroll processes and a "hope" strategy that they might pass with flying colours in the event of an audit.
But unfortunately, that won't cut it.
By adopting NoahFace attendance software and cloud payroll, you can mitigate any non-compliance risk factors of paper timesheets and improve the productivity of the entire business' payroll process.
Using these solutions in conjunction with one another allows employers to track employee attendance against rosters with accuracy.
Not only that, it can save a significant amount of time when going through the payroll approval process because NoahFace seamlessly syncs with your cloud payroll software.
Pay Cat has had decades of experience helping Australian businesses shift from inefficient payroll processes to a more streamlined digital cloud solution as experts in payroll solutions.
If this is all too much trouble and you'd rather automate the process like many of our clients, you can make the shift over to KeyPay cloud payroll by engaging us to help you to transition from a manual to a cloud system seamlessly.
Here's how KeyPay cloud payroll works:
Time and Attendance
Employees clock their time using NoahFace time and attendance software that syncs all data with KeyPay's cloud payroll software.
Live Timesheet Approval
No more manually entries or paper timesheet approvals. Supervisors and managers approve time and attendance on the go directly on KeyPay.
Automated Modern Awards Compliance
KeyPay's pre-built modern Awards make it easy for payroll managers to pay staff correctly, each and every pay run.
Automated Payslips
Create and customise Fair Work compliant payslips that can be easily accessed in the KeyPay cloud.
Payroll Complete In Under an Hour with KeyPay
Never get it wrong. No back pay calculations. No inefficient manual interpretation. No data re-entry. Stress-free paydays that take less than an hour to complete!
If you're interested in moving from a manual payroll system to KeyPay, get in touch with us today for a free demo.