NoahFace is well known for providing the fastest and most accurate Facial Recognition for Time and Attendance, ensuring employees can clock in and out from work efficiently and with minimal or no touching of shared surfaces.
But there are many other reasons that organisations choose to use
NoahFace
kiosks, including:
Offline Operation. NoahFace kiosks can operate 100% reliably without a network connection, ensuring employees can always clock in and out.
Capturing Costing.

NoahFace kiosks can be configured to efficiently capture tasks, work types, projects, and customers, ensuring you can accurately pay employees and charge work to the appropriate cost centres.
Capturing Piecework. NoahFace can be configured to capture information at clock out that can drive pay, such as the number of boxes packed or delivered.
Capturing Breaks.

NoahFace kiosks can be configured to capture both paid and unpaid breaks, which is vital to ensure compliance with many awards and the Fair Work Act.
Policy Enforcement.

NoahFace kiosks can be configured to display health and safety questions when employees clock in for work, either on every entry or periodically.
Now you can take advantage of all these features of NoahFace kiosks while identifying employees using your preferred method of identification, whether that is:
Facial Recognition,
Passcodes,
QR Codes, or
Some combination of the above
Using QR Codes
QR codes have become comm place across the business environment due to the pandemic. Now you can apply this familiar technology to help employees clock in when they aren't consenting to biometrics, allowing them to remain touchless.
To set up NoahFace to recognise employees via QR Code or Passcode, simply edit your access rules..

Choose the appropriate identification method as shown below: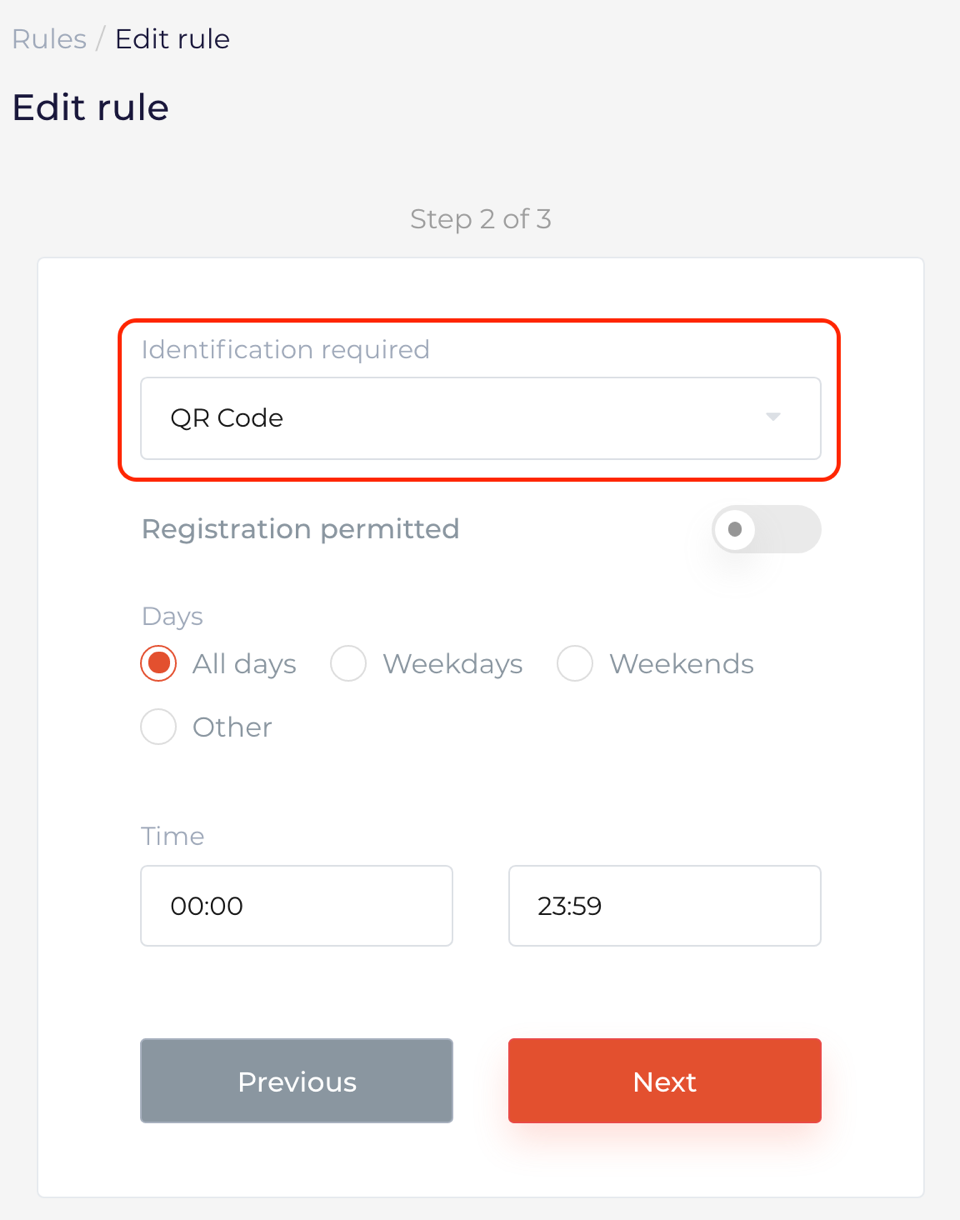 If you set up your rule to use Passcodes, employee photos can still be optionally taken based on the Event Photos setting. Employees can be sent their unique passcodes via SMS or Email.
If you set up your rule to use QR Codes, the QR codes are matched against each employee's User Number (or Employee Number), which is usually business assigned and synchronised from your Workforce Management platform. You can easily generate QR Codes using online tools such as:
https://www.qr-code-generator.com/
(make sure you select a type of TEXT), which can be stored on a mobile phone or printed on a physical access card.
A common situation is that 99% of staff are content using Facial Recognition, but one or two individuals are uncomfortable with it. In these situations, you can choose to create a 2nd access rule granting only those individuals the ability to use QR Codes.
f you're interested in seeing how QR codes can help your business make touchless clocking a reality,
get in touch
with us today for a free demo.